since we've moved to california, i've been eager to share our sweet little vine covered cottage with you. it's actually an old converted barn, equipped with a hay loft and all (that's where our guests sleep)!
you might remember the wishlist i made when we started looking for a new place or even the before pictures i took a while back. i'm not only happy to report that it meets all of my wishlist items, but has turned in to the most relaxing and beautiful place we've ever lived.
the story of how we found it is really a miracle. the housing market here in california is a bit grim (ok, a lot grim), and let's just say way out of our price range! after a few demoralizing days of house hunting, i went home to husband david and cried on his shoulder.
we had a big prayer session and within about 5 minutes this place popped up on my craigslist iphone app. with unassuming photos and a vague description, we tried to not get our hopes up, but hurried over to look at it.
let's just say, it was perfect. i cried (again) as soon as i saw it. it sits directly on a neighboring vineyard with views of the rolling santa ynez mountains. it's small (about 1000 square feet) but just right for the two of us, and toaster. needless to say, we snatched it up immediately, and have been so blessed by living here!
this is where i write to you every day, and i love the bright natural light that fills the space.
here is my small reading nook, cozied up right next to the place where i blog. never keeping inspiration too far away!
above is my sewing corner, a space in our bedroom that i took for myself!
what is the ladder for you ask? for our guests to get in to the hayloft, of course!
this is the latest addition to our decor, a little painting area. it sits just across the room from my work station.
at first sight, i thought this cooking nook was a bit quirky, but has ended up being a really great way to work while in the kitchen. everything is just where i need it!
this is where we nest (yup, those are shipping crates!).
remember this diy patchwork art? this is where it hangs now!
and maybe one of my favorite features is this wisteria covered arbor. we spend a lot of time here, either reading in the hammocks or entertaining in the evenings.

a welcome shot, toaster says hello ruff!
i hope you enjoyed this little tour of our humble abode!
>>1st home<<
david and i bought our home from my grandparents in november, 2009.  after a month of hard work and renovations, this has been our outcome!
here are the before and after pictures!
LIVING ROOM BEFORE
this is the living room the way my grandmother had it. we took down the railing, gave everything a fresh coat of paint and replaced the chandelier with a clear acrylic ceiling fan.
LIVING ROOM AFTER
it feel a lot bigger now! we've got plenty of room to spread out and entertain now.
LIVING ROOM - BEFORE
this is the living room from a different angle. we added some shelves and dressed up the windows a bit.
LIVING ROOM - OTHER SIDE AFTER
we tried to make it as bright and cheerful as we could, and all the natural sunlight fills the whole house!
KITCHEN BEFORE
this is one side of the kitchen, before. we replaced the flooring, painted and added some storage on the far end for food.
KITCHEN AFTER
all of the 'pretty' food is displayed in labeled glass jars, and the cereal boxes and tortilla chip bags are nicely concealed behind the doors.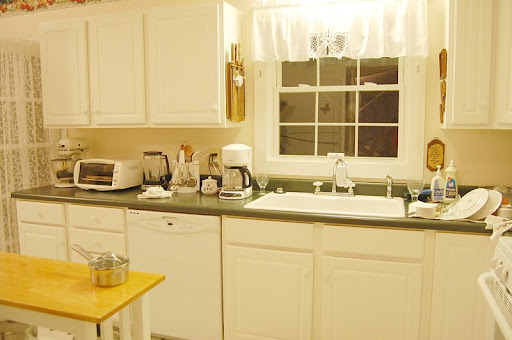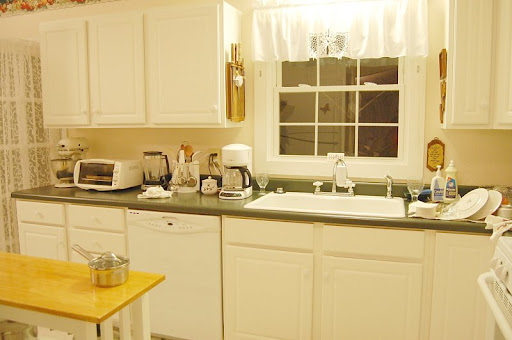 KITCHEN BEFORE
KITCHEN AFTER
KITCHEN- BEFORE
this is the working side of the kitchen. we painted, replaced the counter tops as well as the door knobs.
KITCHEN - AFTER
as you'll see below, we took out a few walls! therefore, we were able to add this island in the middle, giving us so much more work space!
KITCHEN - BEFORE
here's that wall we took out..
KITCHEN SIDE - AFTER
we actually took out both sides of that wall (below) to open the living room and kitchen up.
see? now, we have so much more space and light!
DEN TO MASTER BEDROOM - BEFORE
the den just so happened to be connected to the master bathroom (which also had a closet in it)- and since it's the biggest room, we decided to make it our bedroom!
DEN TO MASTER BEDROOM - AFTER
just some fresh paint and new carpet here..
DEN TO MASTER BEDROOM - BEFORE (other side)

DEN TO MASTER BEDROOM - AFTER

DEN TO MASTER BEDROOM - BEFORE

DEN TO MASTER BEDROOM - BEFORE

GUEST ROOM BEFORE
here's the (messy) guest bedroom. we just painted and dressed up the windows here.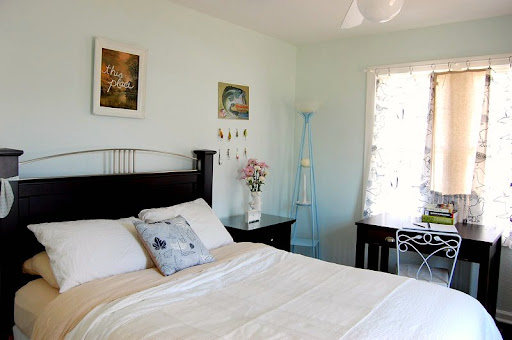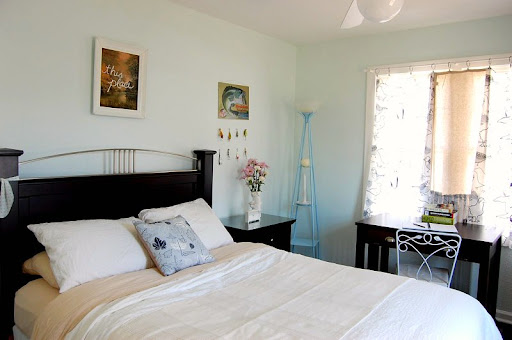 GUEST ROOM AFTER
i'm not done with this room yet, but here's the start. it's going to have a bit of a 'fishing getaway' theme- see the vintage hooks on the wall?
MASTER BEDROOM TO OFFICE - BEFORE
this was the master bedroom, but we decided to make into our office.
OFFICE AFTER
i have a thing for vintage prints- and the art on this wall changes constantly. but, this is where i blog and write to you, every day!
OFFICE (OTHER SIDE) - BEFORE
OFFICE (OTHER SIDE) - AFTER
this also ends up being david's guitar room, the yoga room and 3rd bedroom when we need to accommodate more guests.
SEWING ROOM BEFORE
this is the sewing room- before we painted, and added some shelving and counter tops.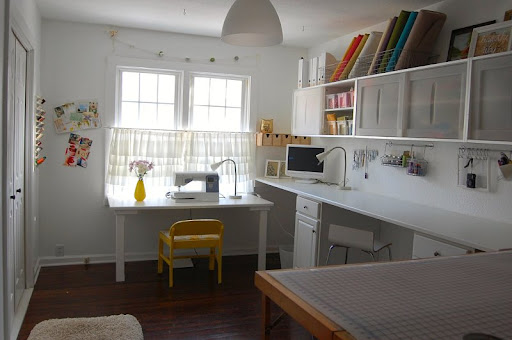 SEWING ROOM AFTER
all of the lower cabinets are what we took out from the kitchen, and ikea counter tops and upper cabinets made this renovation very affordable.
SEWING ROOM BEFORE
SEWING ROOM AFTER
SEWING ROOM BEFORE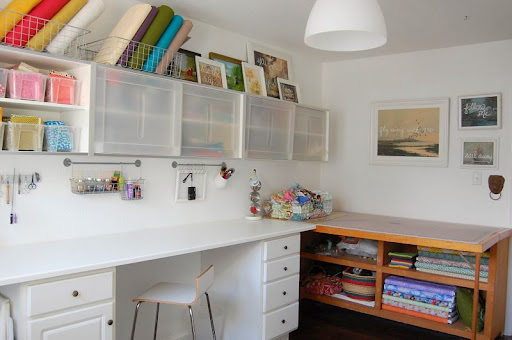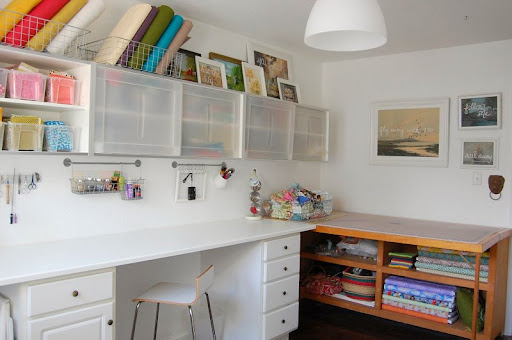 SEWING ROOM AFTER

BACK PORCH BEFORE

BACK PORCH AFTER
BACK PORCH BEFORE
BACK PORCH AFTER

this table, fan, tic tac toe game and vase were all thrifted, for under $20!
BACK PORCH AFTER